Curate TV EP 1: The New Reality of Take Out/ Take Away:
In this first episode, we talk about some quick easy tips as it relates to transitioning into a completely new world of take out/ take away service. We discuss the below action items in brief detail, but read below for a bit more information!
Simplified Menu:
In today's day and age, consumers have been bred into thinking that they should have the world at their finger tips. This is true in many aspects, however, in running a successful take away business, we will need to retrain not only our customers, but ourselves in understanding that the best way to do this successfully is by limiting the options. No matter what type of operation you are, it's going to be extremely important, for optimal efficiency, you will need to offer only those items that are the most popular. It's likely that the customer is already only coming to you for that special or famous item as it is, so be ready! Think of a pizza joint, what makes them so successful at take out/ delivery? Most of the time they are only offering a handful of menu items aside from pizza. Scale it down, and become great at executing a few items very well.
A great idea that I have seen executed at a high level, is some operations that offer a scaled down menu during standard business hours, but have created a "pop up" type concept on the weekends. During these times, they offer a speciality item(s) with a theme surrounding them to drum more interest and demand to make up for the limited menu.
Even if you are on the institutional side of the business, this theme should remain true. Figure out what your customer base likes and wants, compare that to what you can execute most efficiently and narrow your scope. The entire service model for these operations is about to change, and you will need the buzz of customer favorites to fuel demand as you work through the kinks.
Items that can be prepared quickly:
Standard services have built in buffers that allow for the preparation of more intricate items. With take out, you lose this privilege. Riffing on the first point, the menu considerations need to be limited to items that can be prepared quickly, in an effort to not bottleneck the entire order, compromising the quality of everything else on the ticket. If some of your key items, that must be available, have longer preparation times, see the point below about systematic automation to see if there is a way to cut down on the prep time to keep the item available.
Items that travel well:
Oftentimes this point is overlooked in an effort to provide fan favorites, even when transport is required. However, someone's favorite menu item can quickly become their least favorite with one bad experience. A lot of times, foods with unique or crisp textures lose their quality quickly with travel. Even the crispiest and well executed breaded items, won't create a good at home/ desk experience. Consider how that item can be adjusted to accommodate travel/ delivery time or considering only offering it for an in person item while limited capacities are allowed.
Sustainability:
Obviously, when a majority of our "dining out" is conducted in either a to-go or take away situation, it creates a lot more trash. If we want to limit the damage, we may need to consider the logistics behind how we get this done. Regardless of your operation type, there are ways to do this sustainably. G.E.T. has a ton of solutions, including our eco containers. They offer them in a ton of shares and sizes to accommodate any type of menu item, different colors and branding options are available as well. Not only does a solution like this create a more sustainable approach, but can also help develop greater brand loyalty.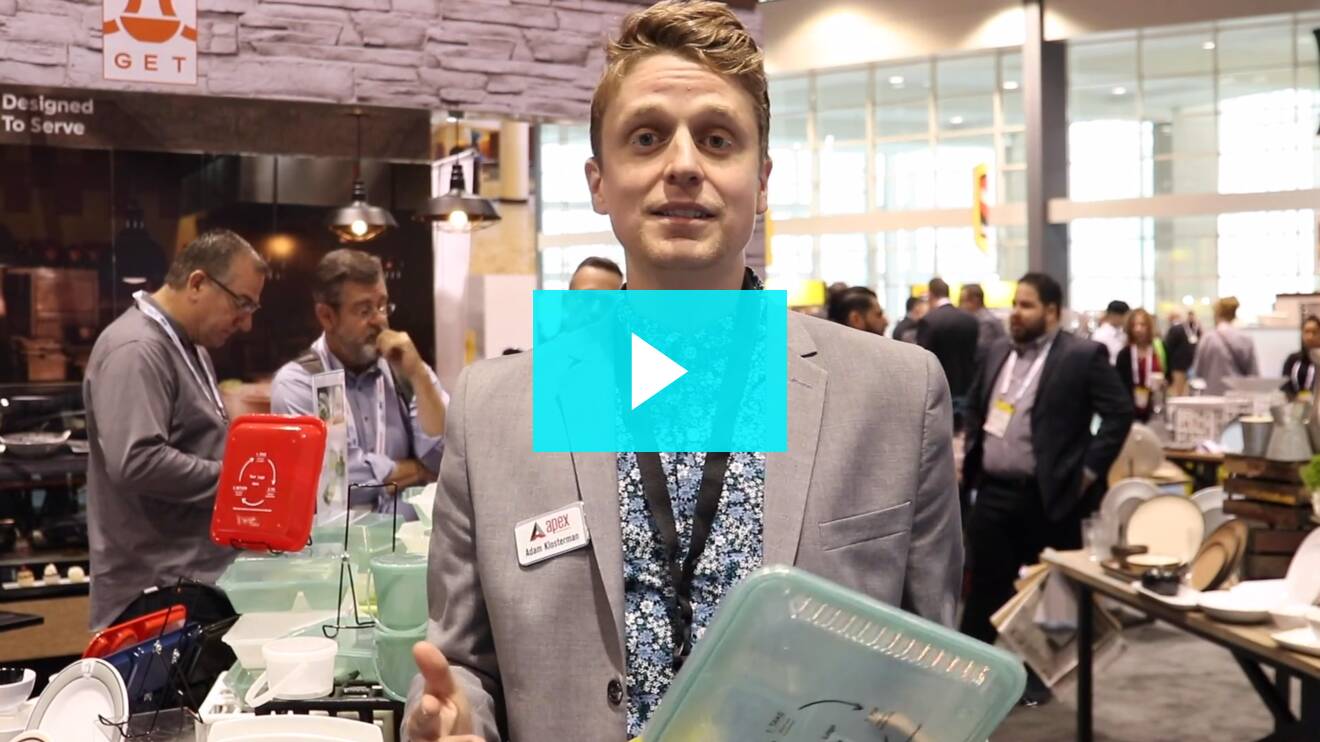 Systematic Automation for a la cart operations:
I spend a majority of time in the video talking about systematic automation. It's where you utilize multiple pieces of equipment (whether it be simplistic or technologically advanced) to create a streamlined and efficient cooking process. The theme is to help reduce time of preparation, all while increasing consistency and quality. In the video, I mention the example of the two minute burger. However, there are a ton of other ways that this process can be implemented. From batching grains, cooking and chilling large scale proteins, to extend shelf life and decreasing cook time, there are a million ways to look at your kitchen, with a systemic approach. The end goal is to bridge the much needed gap between automation and robotics, until robotics becomes a more affordable solution.