With more states looking to reopen, we are still grappling with what our new world of food service will look like, post Covid-19. One thing we know for sure, is the health and safety of our staff and customers are top of mind, all while creating a unique and quality driven food service experience for everyone. No virus or tragedy of any scale can slow the human desire for a hospitable solution.
As usual, here at Apex, we want to provide you with trustworthy knowledge and information that can help tread through these tough times. As we look to get back to work, three categories are going to be sought after; to-go and or take away solutions, mobile options as well as sanitation and safety measures.
The transition to take away and to-go service can be difficult for those who have never had to operate in that space at an increased level. That being said, I have put together a quick blog and video highlighting some of the important things to consider. Click here to watch!
Alto-Shaam Hot Holding:
Keeping quality top of mind, means not only keeping food warm, but maintaining the integrity of the food. Whether you are a restaurant trying to keep to-go orders ready for pick up, a school that needs to offer pre-packaged meals, or a country club attempting to continue servicing your members, a holding cabinet or heated merchandiser is one solution that can help. We have models that are capable of holding around 50-100 meals depending on the size of your container. These can also be outfitted with our G.E.T. ecocontainers, which could be pre-filled with food, taken home/dorm/classroom and returned for washing and sanitizing. More importantly, these can be washed approximately 1000 times!
Sustainable To-Go Options:
In the video above, we mention ways to combat our new world of to-go or off site dining, one of them being the challenge of doing this sustainably. G.E.T. offers a wide range of shapes, sizes and options of their reusable eco container. This is a great way to do your part all while servicing a wide range of industries including schools, health care facilities, college/universities, country clubs, and more. Click here to learn more!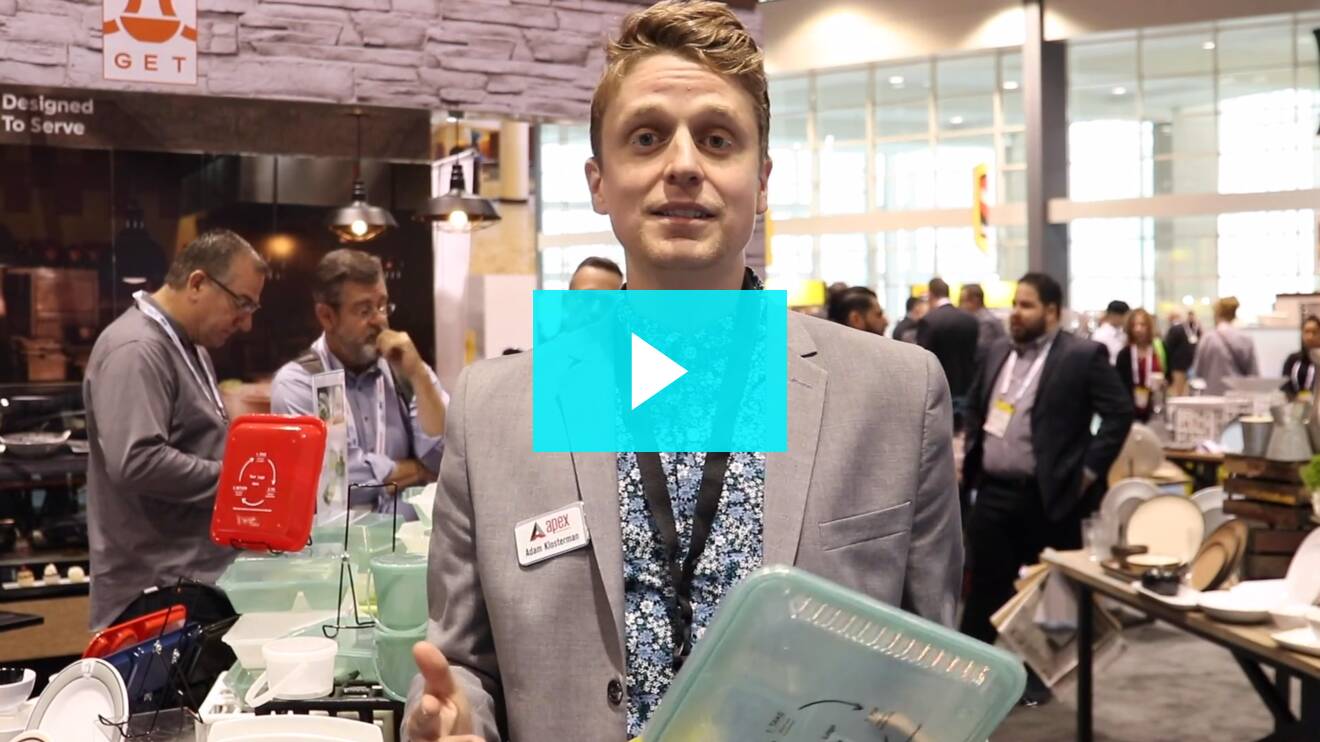 Mobile Transportation and Merchandising:
Many sectors of the industry were already seeing a demand for mobile options, however, our new reality is certainly going to expedite this trend. As we all understand, school food service and college dining will see an uptick in demand as they attempt to solve the complex questions surrounding the feeding of their students. Apex has the ability to offer almost any type of mobile solution from simple, basic needs, to more custom/operation by operation flexibility. Finding ways to take packaged foods to common areas of a building do not have to be complex!
Sally the Robot:
Openly displaying food of any form of self-service offering is looking to be more and more of a distant reality at this point. With CDC guidelines outlawing any form of multi consumer touch points, operators will be struggling to find solutions to these profitable areas of service. Chowbotics and their Sally the Robot offers a unique solution to this. 22 fresh ingredients, from greens to grains, to yogurt, to fresh fruit and vegetable toppings, all behind a closed and refrigerated door, gives consumers not only the ability to maintain their customization abilities, however, it creates a safer environment for fresh and healthy offerings. With a quick "Covid Solutions" package, Chowbotics has maintained fluidity in making Sally an even safer solution than before.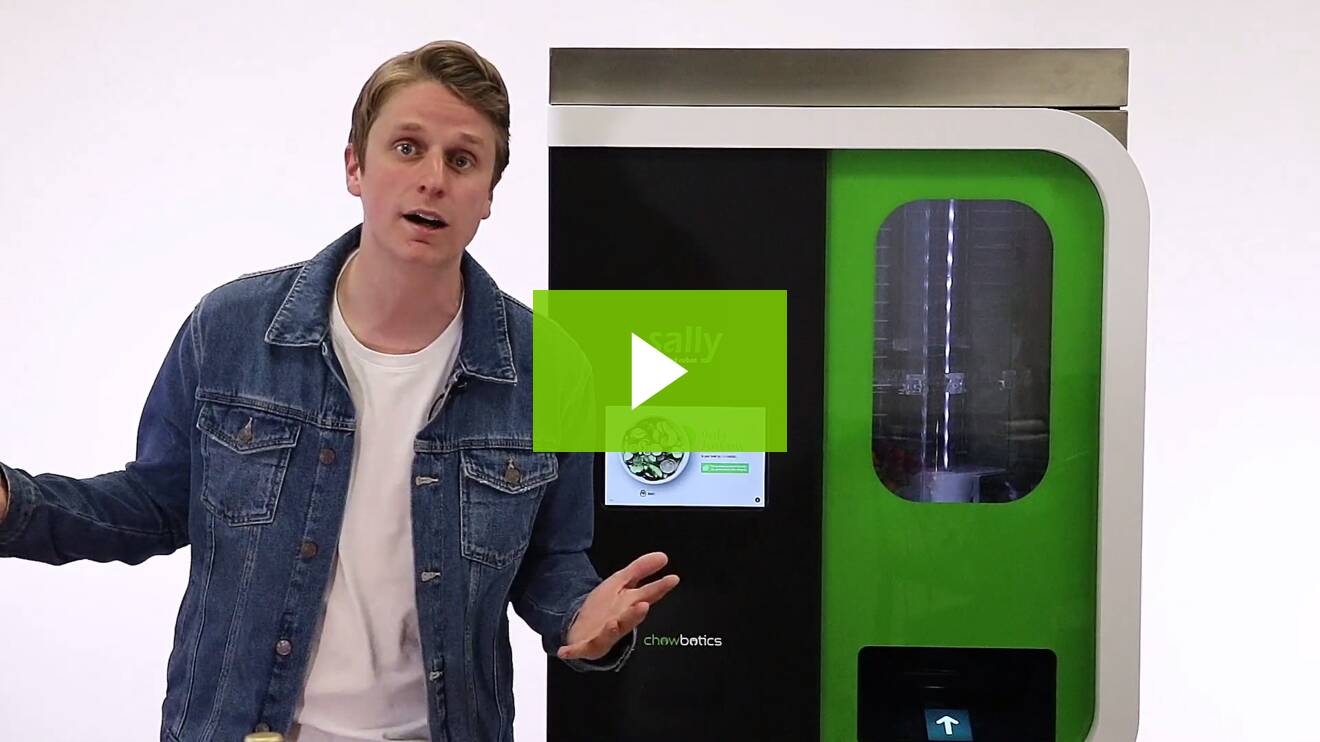 Sneeze Guard and Safety Shields:
We have reached a point in time, where these next concepts have never been fathomed nor was there an action plan to account for it, however, in these times, these types of solutions will be needed. Taking action on providing steps to protect cashier stations, hostess stands, front entryway/front desk team members etc. We have plenty of options that can fit any need including glass and plexiglass solutions to protect anything from the food to your staff. From converting self-service breath guards to full service to raising up the height of your serving counter heights, we are armed with ways to get your customers fed safely.
Covid-19 Certified Dish Washers:
Dishwashing cleaning technology can vary considerably from manufacturer to manufacturer. But specific technological features and processing conditions are required to create the high level of clean that prevents transmission of disease via food wares. Virologist Dr. Friedrich von Rheinbaben of the HygCen Institute in Germany has certified that warewashing operating conditions, combined with the disinfectant cleaning of MEIKO warewashing technology, will safely inactivate the
envelope-type coronavirus SARS-CoV-2, as well as all other enveloped viruses after a single wash, which makes MEIKO dishwashers highly effective against these types of viruses.
Everyone at Apex wishes you and your valued team members well during these most interesting of times! Know that we are here to support in any way possible and look forward to serving you however it's needed.